Warmly welcome Congo customers to visit our factory
24-09-2019
On Aug. 16th, 2019, Congo customers came to our company for site visit and inspection. Managers from OP-used vehicle warmly welcomed the customers.
The general manager assistant first introduced the general situation and development plan of the company to the customers in the conference room. Then, accompanied by the heads of sales departments, the customers visited the production workshop, warehouse and test room and checked tractor head trucks,tipper dump trucks and semi trailers.
During the visit, our company's accompanying staff took bulk cement tanker as an example to introduce the production process, environmental control, quality control, warehouse management and other aspects of the factory to customers.For quality control, all employees have to undergo professional quality training and skill assessment, and strict quality control is carried out in every process from raw materials to manufacturing process, ensuring the stability and reliability of product quality to meet customer requirements. For warehouse management, we always follow the "first-in first-out" principle to ensure that the company's raw materials, semi-finished products and finished products are effectively and reasonably managed. The OP-used vehicle managers introduced how the semi trailers are manufactured. From beam welding to painting, they explained the process thoroughly, deepening the customers confidence in OP-used vehicle.
Customers were interested in our products, especially howo A7 tractor head. They asked many questions during the visit.Like how the materials or truck parts are chosen, how to make the production process more accurate, how to provide after sale service and so on. In response to a series of questions, our company's accompanying staffs have made professional answers. The company's management and technical level has been unanimously recognized and appreciated by customers.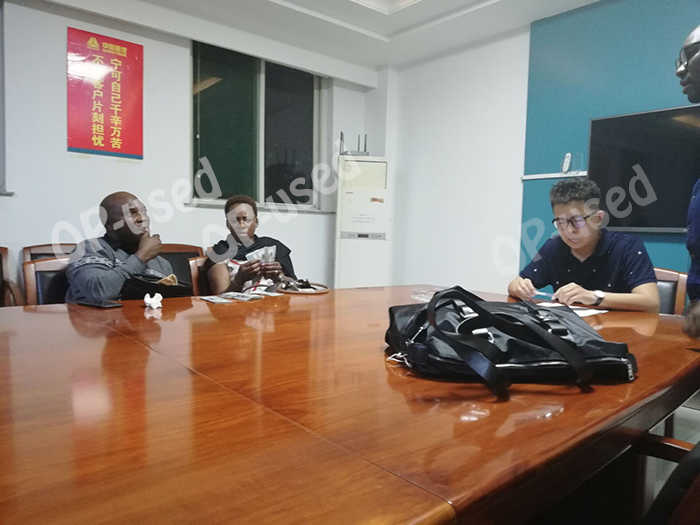 Meanwhile the customers were attracted by fuel tanker semi trailer. They visited the blasting room and painting room, and asked the details of standard manufacture procedure. After gaining these information, they were more convinced by our products. Finally, our manager introduced our after sale service, including one-year warranty period, providing free accessories and providing solutions within half an hour.