2nd Hand Tipper Dump Trucks
OP-used

Shandong

15 days

150 sets
Dump truck also known as a dumper truck or tipper truck, is used for taking dumps, such as sand, gravel, or demolition waste. A typical dump truck is equipped with an open-box bed, which is hinged at the rear and equipped with hydraulic pumps to lift the front, allowing the material in the bed to be dumped on the ground behind the truck at the site of delivery. 
Howo dump truck is mainly composed of a hydraulic dumping mechanism, a carriage, a frame and accessories. As a manufacture. we specialize in 2nd hand tipper dump trucks. We refurnish quality howo dump trucks made in 2014 to 2017 to meet clients' requirements for transportation. All the 2nd hand tipper dump trucks can serve more than 8 years.
Howo tipper trucks have been the most popular product in more than 10 years. With a great reputation, it has demonstrated its reliable function, high cost competitiveness and loading capacity. Based on these characteristics, we choose them to make 2nd hand tipper dump trucks, promoting them in China and abroad.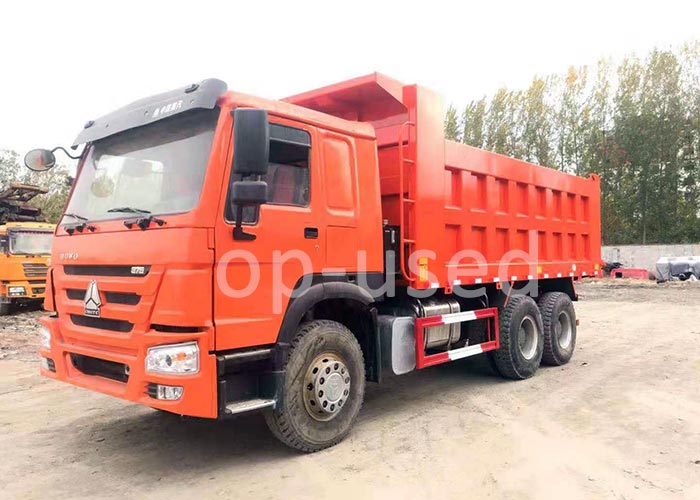 To provide more options, we prepared 6*4 and 8*4 drive types, both left hand drive and right hand drive.
The horsepower ranges from 336hp to 420hp;
mileage is from 50000km to 80000km;
tires are 80% new or brand new 12R22.5 or 12.00R20 upon clients' request.
The dump truck is matched with China National Heavy Duty Truck HW19710 gearbox with a gear position of 10 and a HC16 rear axle with a speed ratio of 5.73.
Originally manufactured by China reputed national enterprise Sinotruck, the tipper's cargo body is strong enough to perform well in severe conditions, and the fuel consumption per mile is less compared with other brands.
Meanwhile suitable for the Africa, Southeast Asia, Middle Asia and other markets, we choose trucks with Euro 3 emission standard. Because of this, our clients will have a relatively low maintenance cost.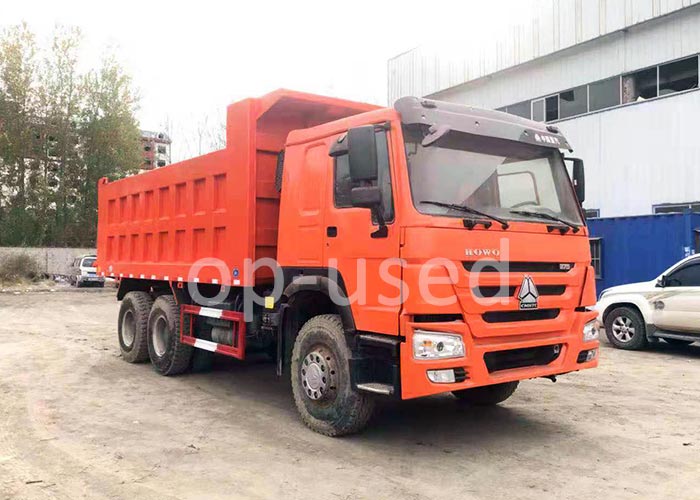 To offer a satisfied service, we guarantee one-year warranty period.Free accessories will be provided, if the accessories' quality problems occur under normal use. The accessories include axle, saddle, leaf spring, kingpin, landing gear, suspension, tire, air chamber.
At the same time, clients will get solutions to their quality problem in no more than half an hour. The quality control team will get back to them and guide them through quality issues. All of our engineers are experienced in howo tipper trucks, and we will offer best solutions and rich maintenance knowledge.