80 Ton Low Bed Lowboy Semi Trailer Manufactures
OP-used

Shandong

35 days

150 sets
80 ton low bed lowboy semi trailer is usually used to transport heavy vehicles (such as tractors, buses, special vehicles, etc.), rail vehicles, mining machinery, forestry machinery, construction machinery (such as excavators, bulldozers, loaders, pavers, cranes) and other heavy-duty goods. The lower the center of gravity, the better the stability and safety. The more capable it is to transport super-high cargo and pass overhead obstacles.
1. Side beams are usually channel steel or bending parts. At present, most trailers use channel steel. There are more side beams with light-weight bending parts because the strength requirement is not too big. Supporting beams are through beams. Now most of them are W beams.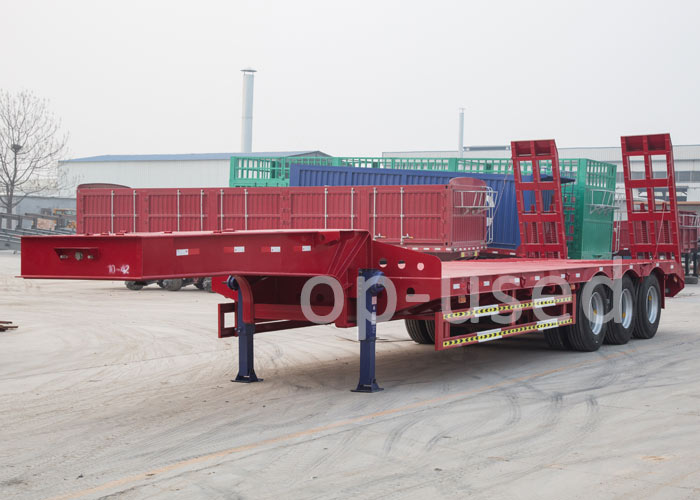 2. The traction pin is an important component connecting the semi-trailer with the tractor and bearing traction force, which is connected with the traction seat. Generally, the steel with chromium alloy structure is forged. There are 50 traction pins and 90 traction pins for different tonnages of cargo. Generally, the total weight of 50T trailer and cargo is limited, 50# for below 50T, 90# for above 50T, and 90# for insurance purposes.
4. Generally, semi-trailer suspension is made up of non-independent steel plate stamping rigid suspension, series leaf spring and suspension support, which is used to support the load and slow down the impact of dynamic load. There are four kinds of suspension commonly used: series leaf spring balanced suspension, single point suspension, air suspension and rigid suspension (one line and two axles).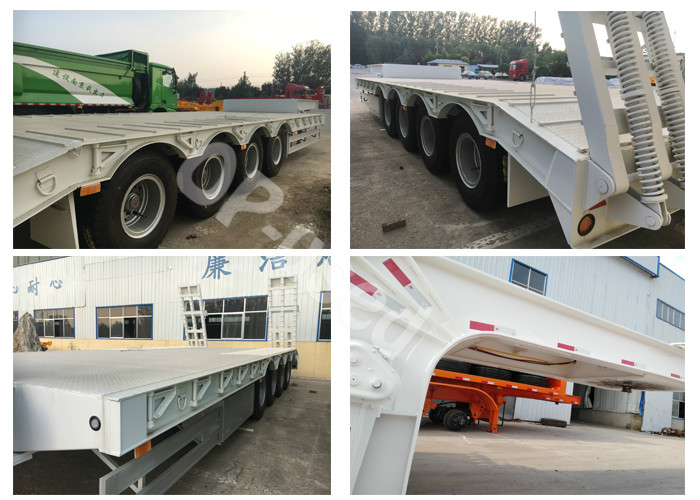 Trailers are divided into semi-trailers and full-trailer semi-trailer axles, which are placed behind the center of gravity of the vehicle (when the vehicle is evenly loaded), and trailers equipped with coupling devices that can transfer horizontal or vertical forces to the tractor.
The front of the trailer is attached to the tray of the tractor. There are two kinds of low bed trailer: two-axle and three-axle. Both have front legs. Usually under 13 meters. Previously, there were 17.5 meters.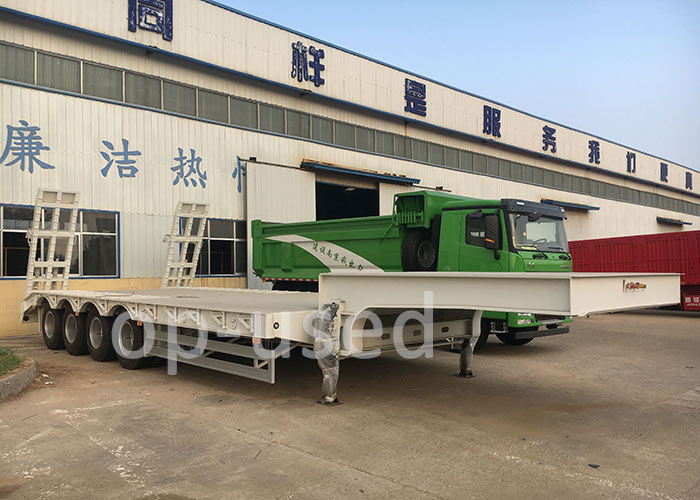 The load of the full trailer shall be borne by itself, and the locomotive shall be connected only by a hook. Locomotives only provide power to help trailers overcome road friction. The full suspension can be upright on its own tires. Usually about 6.5 meters. Semi-trailer and low flat-panel trucks must have a water sprinkler system before they leave the factory, because in long-distance transportation, long-term braking will cause the wheels to heat up. Failure to adopt cooling braking will reduce the effect or even failure, and reduce the service life of the wheels, axles and tyres.