Used Sany SY155C Secondhand Excavators
The Sany SY155C excavator is an engine exclusively supplied by Sany, which can ensure the reliability of the machine under severe working conditions;
Used sany excavator adopted with renowned brand hydraulic components Kawasaki main pump ensure the high reliability of the hydraulic system.
Sany excavator SY155C heavy duty rock bucket teeth are equipped as standard to adapt to harsh working conditions.
It is the first in the industry to use supporting wheels instead of towing sprocket wheels, and the service life is doubled; the double-sided reinforced towing sprocket is used to fix the wheels, the structure is more robust and durable, and the reliability is high.
The standard air filter can effectively filter the impurities in the air that prolong the service life of the air filter.
Sany Group is the largest construction machinery manufacturer in China and and its products are favored by customers.
SY155C diggers uses sound-proof steel structure cab and 6 silicone oil shock absorbers are installed at the bottom, plus adjustable suspension seats, fully automatic air-conditioning, fully providing comfortable driving environment for the driver.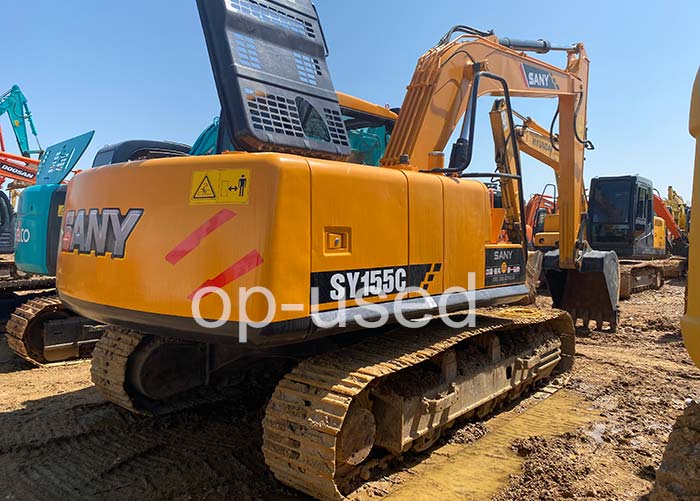 Bucket:backhol
total weight:14100kg
Bucket capacity:0.55m³
Rotation speed:12rpm
Walking speed(km/h):5.5/3.5
Ground pressure(Kpa):43
Bucket digging force(kN):92.7
Arm digging force(kN):66.13
Engine type:4JJ1-XDJAG-01-C3
Rated power(kw/rpm):73/2000
Max. torque(N.m/rpm):365/160
Output(L):2.999
Fuel tank(L):240
Hydraulic tank(L):150
Engine oil change quantity(L):15
Total track length(mm):500
Carrier roller quantity:2